Puppy and kitten advice guide
This FREE download advice guide for new pet owners is supplied to help you with your puppy and kitten courtesy of  Parkside Vetenirary Group
7 Promises you should make to your new puppy or kitten
The

FREE puppy and kitten advice guide

designed for new pet owners…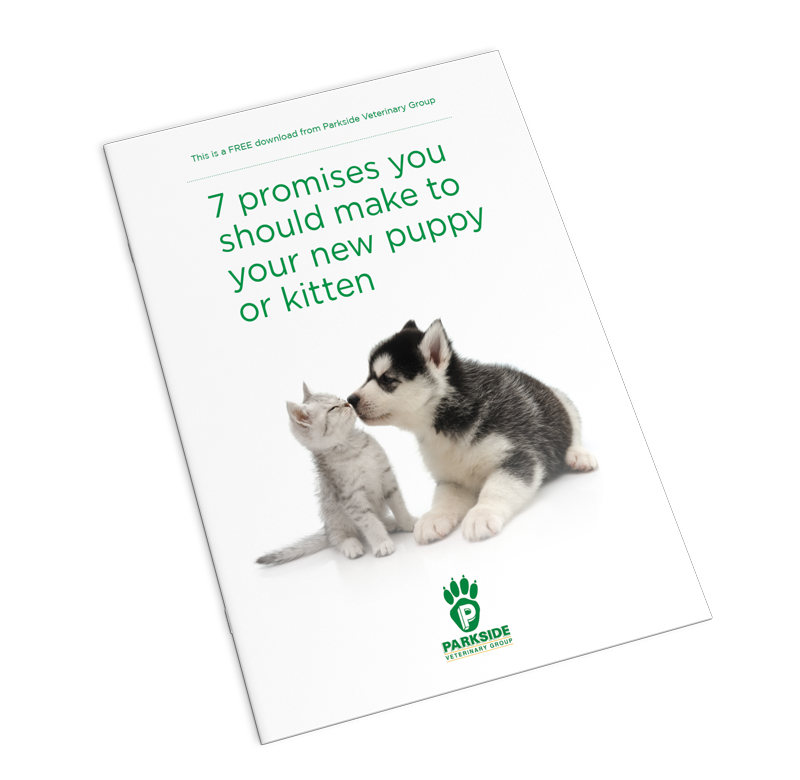 OUR TOP TIP'S INCLUDE:
Encouraging good behaviour from the start
Training your puppy
Vaccinations
Exercise – how much and how soon?
Diet and nutrition to promote healthy growth
Parasite control
Healthy habits for life
Grooming
Download your free booklet
Enter your details below and we'll give you a link so you can download this useful PDF guide for puppy and kitten owners.
Terms and conditions: By downloading this PDF document from our website you are giving us (Parkside Veterinary Group) consent to add you to our customer mailing list. You may unsubscribe at any time. We promise not to send you any unsolicited emails and will never give your information to any other company. You can view the Parkside Veterinary Group privacy policy here.
Here's an extract to get you started
"Bringing a new family member home is always an exciting time as you get to know each other, and enjoy all the amazing puppy and kitten cuddles and fun.
You've no doubt spent time choosing the perfect new addition to the family, bought all the kit, and found the right insurance for you. Much like bringing a new baby into the family, these are special times that will stay with you all forever.
As magical as this time is, we understand that alongside all the love and fun, the responsibility can feel quite overwhelming. So many decisions to make about so many things, and getting it right now can help ensure the longest and healthiest of lives.  This tiny fluffy bundle depends entirely on the care you give them. Babies and children are generally very good at crying and making a noise to let you know they need something, and there is a lot of support at this time, but cats and dogs and not always so this guide is here to help you!
These early days as you're all finding your feet is an ideal time to put good habits in place that will then last a lifetime and reap many rewards. We've listed the 7 most important promises to make to your puppy or kitten as soon as they join your family that will set all the healthy foundations you need. The right start will ensure your pet – and the family they are a part of – stay happy and healthy for the longest time possible.