Advanced Ultrasound
This is a portable machine which we can take to stables, useful for tendon scanning, but for high definition pictures, we prefer to use the much larger machine based at the Dundee surgery, which can be used in our equine facility at Kings Cross Road.
For internal work, this been overtaken by our cordless self-contained advanced unit, with high resolution screens worn as "spectacles". Great for all the scanning needed for fertlity work in mares and also pregnancy diagnosis in cattle. With our expanding caseload, we have recently bought a second machine.
You can see Alistair "wearing" the scanner below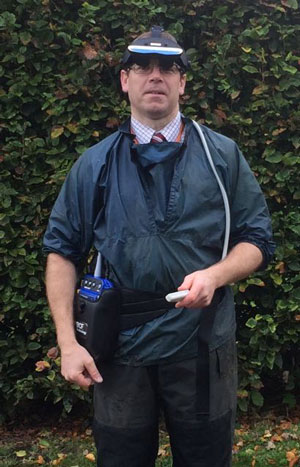 Digital X-Ray
This involves a fairly standard X-ray generator (with a small computer attached) but instead of exposing a film that needs to be exposed and developed in chemicals, the picture is recorded digitally on a laptop via a specialised plate which instantly converts the picture into a digital image.
This allows fast viewing, ensuring we have captured the area we want and it also gives very high detail allowing manipulation of the image when on a computer. This all helps diagnosis in complicated cases. The unit we use is one of the best, the same one being used by Liphook veterinary equine specialists and by Liverpool University vet school. Your horses are worth the investment!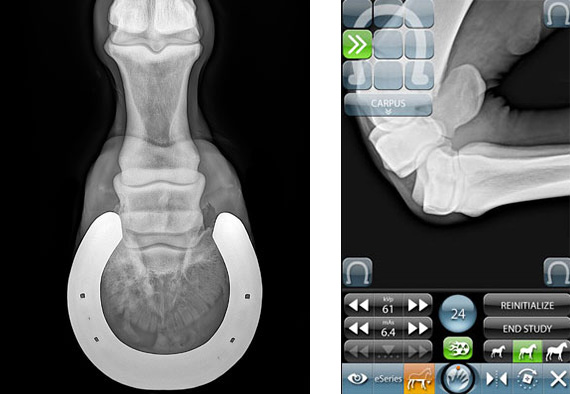 In-House Laboratory
We have expanded the lab at Kings Cross Road so that we can do all routine blood examinations in-house - all biochemistry as well as blood-cell counts. Great for fast diagnosis and early treatment of your horse.
It is also good for monitoring progress after treatment on occasions.
Treatment Centre
We have loose boxes and equine stocks for examinations at our equine centre at the Kings Cross Road surgery. The secure back yard is suitable for horse transporters and unloading/loading. Come here for routine work and save a visit charge. Some procedures are best done here rather than at livery or in a yard. A horse can be sedated and kept secure in the examination stocks - great for complicated dental work and acurate positioning for Xrays and high definition ultrasound.
Official Measuring
Parkside is approved to offer Official Measurement under the Joint Measurement Board (JMB) rules. This is done on the area approved by the JMB within the treatment centre at Kings Cross Road and measurements must be arranged by appointment. This area has to approved by the JMB and our area is a demarcated area between the stocks and the loose boxes.
Read all about Official Measuring on the JMB website HERE
Practice Standards
Parkside Equine is recognised by the Royal College of Veterinary Surgeons (RCVS) in the Practice Standards Scheme. This ensures a high standard of care for staff, for clients and for your horses! Independently assessed by the Royal College of Veterinary Surgeons, we have recently been accredited once again. Great reassurance for you and your horse.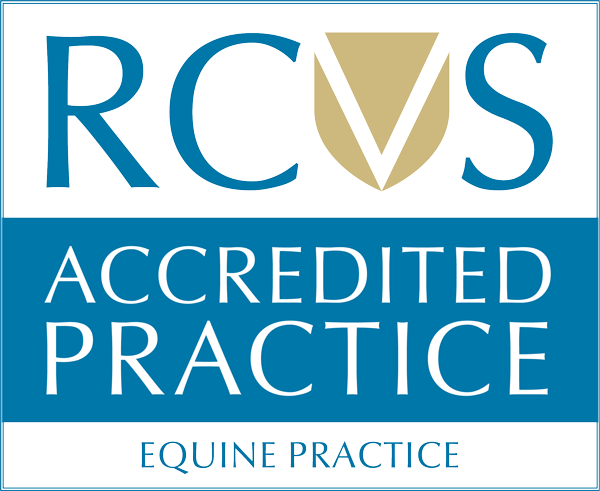 Video Endoscopy
This allows us to investigate epecially the throat and respiratory tract of the horse using a flexible fibre-optic endoscope where we see the view on a monitor, real-time in high definition. Essential in the investigation of upper respiratory problems, coughing, nose bleeds and so on.
We can take samples too, by biopsy or by bronchial washes, where we pass water down, then suck it back up again and can then culture bugs or look at the cells to aid diagnosis. This usually done under sedation.
We usually admit horses to our treatment centre to undergo this examination.