Making sure your cat has the best diet goes a long way to keeping them healthy and happy for the longest time possible.
If your cat comes to you as a kitten, it's important that they have access to the best nutrition you can afford during this key developmental stage, as this puts the foundations down for a healthy adulthood.
As they grow up, keep an eye on their weight and tweak their diet accordingly to make sure they stay healthy.
To help with this, remember Premier Pet Club members get UNLIMITED consultations with a vet throughout the year where we can check their shape and weight and discuss any other concerns, as well as free weight checks any time, diet clinics and 10% off great brands of cat food in the practice. (Not already a member? Click here for more details)
Whatever their age or condition, always ensure they have access to water. Without water, your cat could become severely ill very quickly. Note: Cow's milk is not a substitute for water and can really upset their stomachs.
Feeding your kitten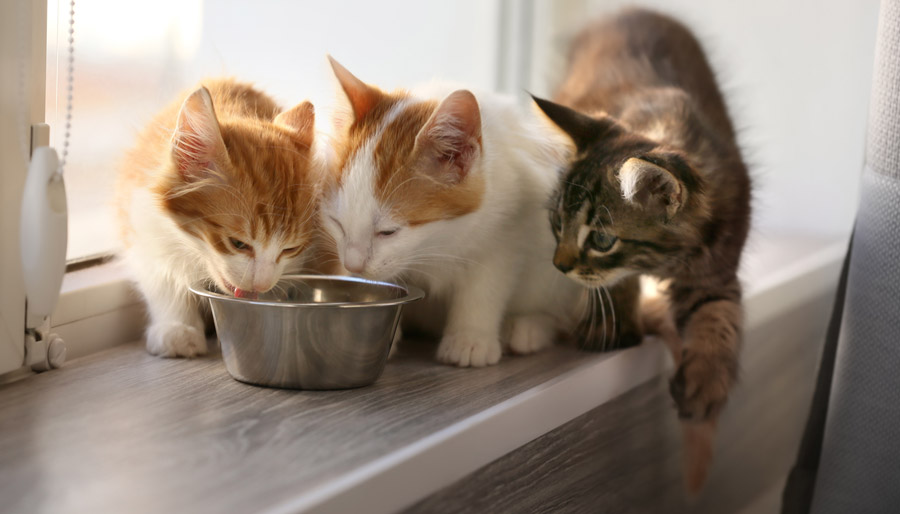 When your kitten first comes home, it's best to stick with the food they arrived with for a week or so. There will already be lots of change for them to get used to, so wait until they've made themselves at home before you start gradually changing over to your chosen food. Always avoid sudden or frequent changes of diet as this can result in diarrhoea, and this applies to cats of any age, so start mixing increasing amounts of new food with old over 5 to 7 days until they're just eating the new food.
Always use kitten food for a young growing cat. We recommend Hills Vet Essentials range of complete cat foods as it has many positive attributes for your cat's health and works out very economically per meal. Read more about the benefits HERE. Remember as a Premier Pet Club member you'll get a 10% discount on this.
At your cat's first health check, Parkside will be able to advise you about a suitable diet. First checks for new kittens are FREE! and these can take place as soon as your kitten comes home.
Kittens should have dry kitten food available at all times, with two small kitten meat meals daily if you wish, though these are not essential. Eating little and often is fine for cats, but not for dogs.
They will also need their food and water to be served away from their litter tray as otherwise, they might not be interested in either. 
Feeding your cat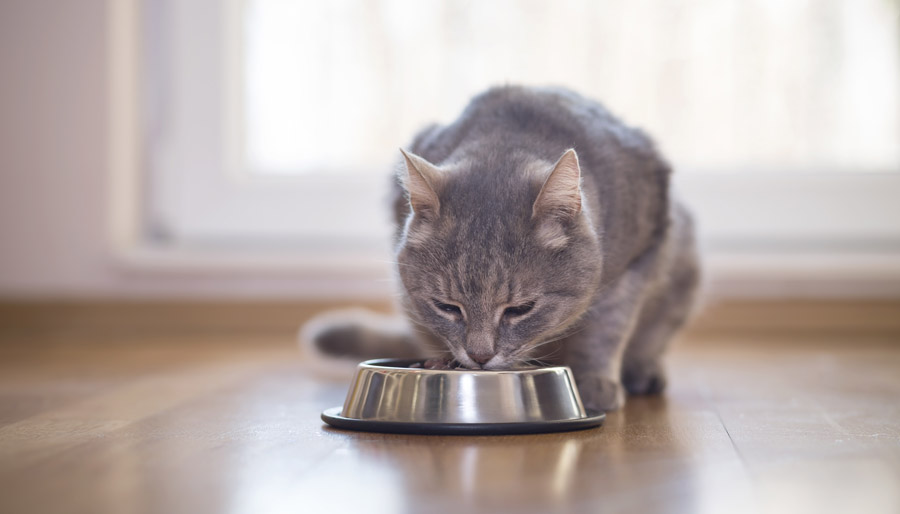 Keep an eye on your adult cat's weight and make sure their diet meets their needs. You can buy high-calorie food for active and skinny cats, food for hairy cats who suffer from hairballs, and food for overweight cats too if you need to.
Cats have a higher protein requirement than many other mammals and need protein from meat to maintain a strong heart, good eyesight, and a healthy reproductive system. They also have several other species-specific nutrient requirements, so must be fed cat food as opposed to dog food or plain meat.
Home-cooked cat food is difficult to offer as a full-time diet as getting the proteins, vitamins and mineral balance your cat needs to thrive right all the time is tricky and could cause a nutrient deficiency.
Vitamin supplements should not be needed if you're feeding your cat a good quality cat food unless we've recommended otherwise. Supplements could cause a dietary imbalance which could cause harm.
Use separate feeding equipment for your cat and make sure that clean, fresh water is always available. It is commonly assumed that cats need a variety in their diet but this is not the case and often leads to upsets. A cat will eat the same food happily day after day for many years. They like a wide and shallow bowl so that their whiskers do not touch the side of the bowl when eating or drinking.
If you have several cats on different diets, it's worth looking into food bowls that open just in response to a particular microchip being near them. These can make life so much easier as they make sure food can always be left down for each cat, but that there is no chance they'll eat inappropriate food.
Changing dietary needs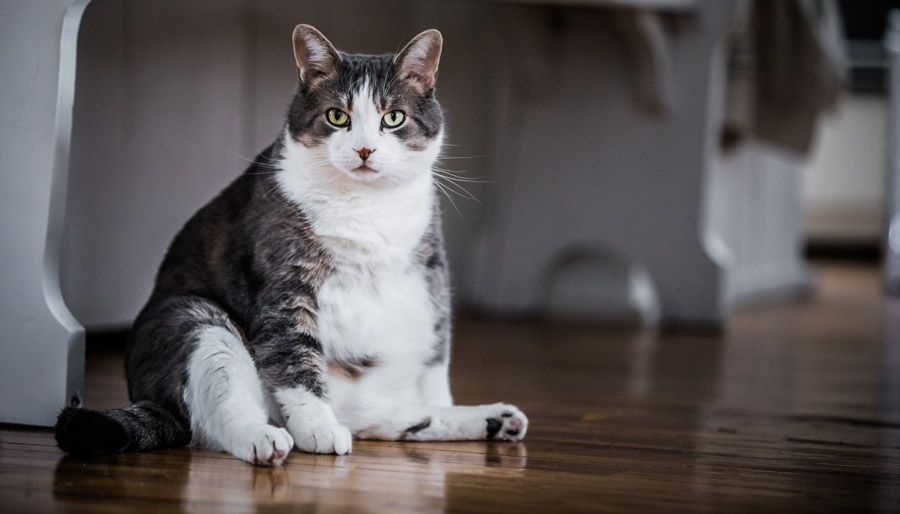 Kittens have very different nutritional requirements to adult cats and will need food specifically developed for that life stage.
Most adult cats are normal, and the majority of foods are supplied for this life stage. However, there are several circumstances when adult foods are not suitable:
Under/overweight: If your cat's condition needs changing, you can buy food that provides them with more or less calories. These can be a useful tool in weight management, but make sure you get the portion size right and don't just fill their bowl. There should be portion advice on the packaging, but if you have any queries about what's right, do call or pop in and we'll be able to advise.
Older cats: have requirements that are different again and appropriate preparations are available.
Pregnancy and lactation: also bring changing dietary needs and food for these circumstances can be discussed with Parkside Veterinary Group.
Medical conditions:  There are foods available for various conditions including kidney problems, heart disease, kidney problems and bladder stones. If you cat needs one of these we will let you know which one whilst discussion their continuing care.
Some brands provide diets for all life stages including Hills, and it's easy to change to the relevant product of the same brand as your cat ages.
If you'd like to discuss your cat's diet, weight or lifestyle don't hesitate to call us..
Dundee: 01382 810777
Barnhill: 01382 739634
Broughty Ferry: 01382 477433
Arbroath: 01241 293777
Remember that Premier Pet Club members get UNLIMITED consultations with a vet throughout the year.